––––––––––––––––––––––––––––––––––––––––––––––––––––––––
––––––––––––––––––––––––––––––––––––––––––––––––––––––––
NEW AMPH TWELVE INCH OUT ON KOMPLOTT RECORDS.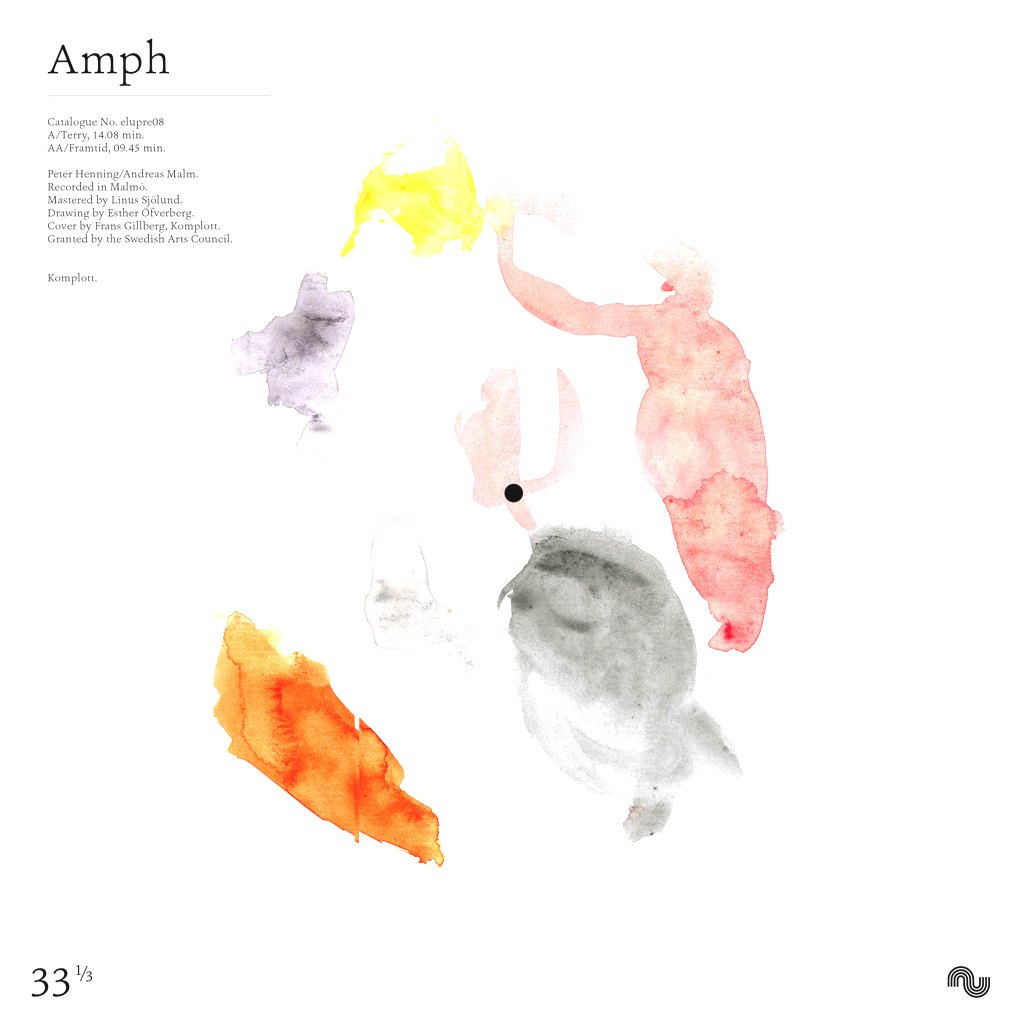 Ltd. 100 copies, re-issuing two older tracks: "Terry", previously featured on Steve Cammack's SoundArt Radio, and "Framtid" (Mustaqbal), previously released on Hästen & Korset's Tape Works compilation. €17 ppd. Orders to: office@komplott.com +
http://www.komplott.com
––––––––––––––––––––––––––––––––––––––––––––––––––––––––
––––––––––––––––––––––––––––––––––––––––––––––––––––––––
Sprach 07: Amph »Polar / Mongol« 12" (45 RPM)
Having defended the art of the press release in Matthias Andersson's
Fördämning
zine (#1), it's unfortunately been laid upon me to describe an album of my own, making it decidedly harder to come up with the kind of witty, meta-reflective noise scene commentaries I usually resort to. Left to offer then is some thoughts on the development of Amph up to this point.
The band, consisting of myself and Andreas Malm (Skeppet, Body Awareness, Kosmisk Väg label) started operating in 2010. Having tried to make music together but not really found a common ground, we stumbled upon an LP by
Messages
on De Stijl. A path seemed to open. On this great release, Tres Warren, Taketo Shimada and Spencer Herbst successfully capture the spirit of 60s/70s New York minimalism within a distinctly contemporary musical framework. While initially aiming for something similar, we didn't really sound like Messages in the end – more like Metgumbnerbone… What we borrowed is perhaps the unhurried pace and dedication to repetition, most prominently concretized in the use and abuse of the tape loop.
Since the resulting debut,
Rapport om blinda
, a few more editions and compilation tracks has appeared on labels like
Järtecknet
,
Untergeschoss
,
Hästen & Korset
and
Release the Bats
. While the sound from the very beginning has been based around different repetitious structures, we've tried to push ourselves in new directions – whether we've wanted or not moving beyond the primitivistic appeal of the earlier tracks. The two cuts presented here are not necessarily less crude – the foundational elements are still hissy, slowed down four-track tapes – but it's a crudeness approached, at least in part, with a greater compositional sensitivity. It's hard to point to any one defining influence that's paved the way for
Polar / Mongol
, but in different ways Amph's current aesthetic points to everything from the on-going INA-GRM reissue campaign to Yoshi Wada, Raymond Dijkstra, Foxy Music, La Düsseldorf, the Potlatch label, Ashley C's
Timeless Reality
, Graham Lambkin, Thurnemans, Wandelweiser, Regim, Dilloway, Choi Joonyong and Keith Rowe.
In my opinion, this latest synthesis provides one of the more successfully realized examples of what we've tried to accomplish since the start of our collaboration.
12" cut at 45 rpm. 250 copies; pro-printed spined sleeves.
Mastered by Viktor Ottosson.
Price: € 10 + shipping.
OR send an e-mail to
with your order and we'll get back asap with a total including shipping. Payment is to be made by paypal or bank transfer and will be sent by the Swedish post (airmail if overseas). Please inquire for wholesale orders etc.
Distribution
Abgurd (RU)
,
Beläten (SE)
,
[...]dotsmark (JP)
,
Freak Animal (FI)
,
Järtecknet (SE)
,
Lust Vessel (JP)
,
Millstone Vinyl (SE)
,
Obscurex (FI)
,
Release the Bats (SWE)
,
Posh Isolation (DK)
,
Second Layer (UK)
,
Self Abuse (USA)
,
Skeleton Dust (US)
and
Untergeschoss (FI).
Sprach 05: Haunted Trails »Ranger« C14
La poésie de la nuit et des tombeaux #2
Haunted Trails is the artistic alias of Dan Hedlund; postal worker and Pyramido sludge guitarist from Gothenburg. Dan's solo work has previously appeared on the Utmarken compilation tape
Ett annat Göteborg
and on a great split with Blue Queen (from Bong). Just in time, roughly a year later, the craving elite appreciative of Dan's talents is served with a cassette tape sequel on Sprachlos. While a mere 14 minutes long, this mini epic collects four 'heavy' tracks attesting to the increasingly accomplished music of Haunted Trails. Quality over quantity any day.
In a time when narrow minds and listening habits demand music fitted exactly to the confines of certain subterranean music genres it's certainly refreshing to hear Haunted Trails fall between the cracks. The rough ideas are easy enough to sketch: it's (drum machine aided) guitar music, it's (sort of) minimal rock music, it's not especially noisy (well, most of the time), and at one or two points it gets pretty damn sentimental. But what then? Somewhere you might hear traces of early Skullflower, but it's transformed into something profoundly less muscular and slightly more twisted. Yet the messy second track on the A side actually does sound like a take on Bower in his bluesy wall-of-guitar mode. Then there's the ballad. If you've got any relation to the Swedish west coast you'd probably say that it sounds like a forgotten Björn Ohlsson demo, and I could agree to that. Perfect Pripps blå music. And the concluding cover of Lee Perry's 'Bird in Hand'? Well, imagine a more psychedelic sounding Danzig getting high on purple drank while trying to do a heartfelt prom tune… Most likely inferno in the form of Jeff Only's swollen vocal cords awaits you below.
A friend said that
Ranger
sounded like Lust for Youth for grownups. An apt description if the entire Cold Cave collection of Hannes's were to be replaced with beaten up Träd, Gräs och Stenar albums. But let's be honest. This has nothing to do with so called wave music – it's 'wave' in the sense of Mount Everest Trio's
Waves from Albert Ayler
. Take a deep breath and forget that you've ever heard of glossy synth reissues and lousy tapes characterised by semi-harsh-ambient textures and PE-leaning vocals that's rather death industrial in their execution. Most importantly though: forget that you actually hate contemporary lo-fi one-man progressive rock.
Price: €5 + shipping
• Review by Marko Gillingsmark (Levande begravd #2)

• Interview w/ HT at Situation Skitstörd (in Swedish)
Two full-length tracks can be streamed at Sound Cloud